Produtiva is a member of the "Compromisso Pagamento Pontual" (Punctual Payment Commitment)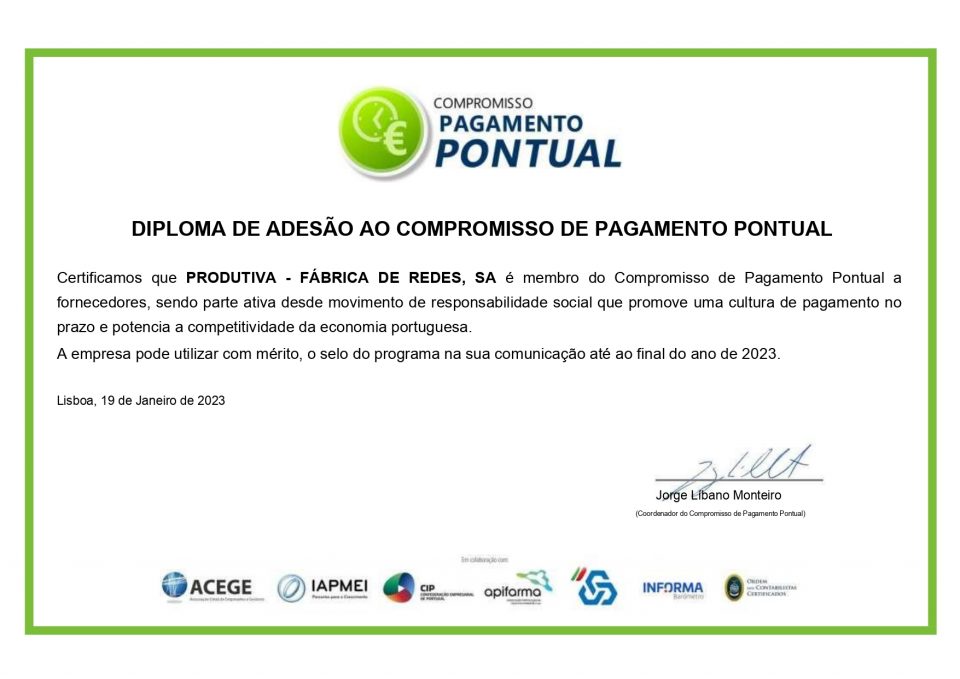 Produtiva is a member of the "Compromisso Pagamento Pontual", an initiative which aims to create a culture of timely payments to suppliers.
According to Informa D&B, 87% of Portuguese companies do not meet payment deadlines. Another figure that reflects this is that 1 in 4 bankruptcies are caused by late payment. It was in order to mitigate this reality and to encourage the creation of a virtuous cycle in the Portuguese economy that the initiative Compromisso de Pagamento Pontual (CCP) was born.
The CCP is a joint initiative of ACEGE (Christian Association of Businessmen and Managers), IAPMEI (Agency for Creativity and Innovation), CIP (Confederation of Portuguese Business), APIFARMA (Portuguese Association of Pharmaceutical Industry), Caixa Geral de Depósitos, OCC (Order of Certified Accountants) and Informa D&B, which already has 2078 associated entities.
With the aim of combating this problem of the majority of Portuguese companies not meeting their payment deadlines with suppliers, creating a vicious cycle that constitutes a serious threat to the survival of many, mainly small and medium-sized companies.
This culture of permissiveness in the Portuguese economy, which seems to be deeply rooted as a cultural factor, has to be countered.
The list of adhering companies is published on the programme's website at https://pagamentospontuais.org/#empresas .