STEEL / STAINLESS STEEL WIRE MESH SCREENS: A DIVERSITY OF PROFESSIONAL SOLUTIONS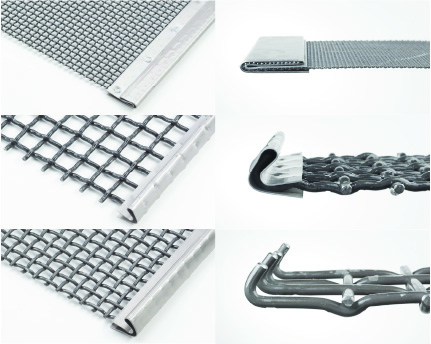 The steel / stainless steel wire mesh screens are wire mesh screens built with wires previously waved in both directions, thus obtaining an irregular surface, precision in the openings, excellence in granulometric rigor and high resistance.
There are several types of metallic wire mesh screens: Type A, Type D, Type E, Type H AND Type R that differ in the particularity of the mesh.
The search for continuous improvement in processes and production are now inseparable in the growth trajectory we project for the future.
With an internationally recognized certification, our solutions have yet another requirement for its differentiation from the competition.
We ensure that each step of the work process is in full compliance with the most demanding national and international standards, starting right from the raw material. Imported from Germany, Italy, France and Spain, all suppliers are selected according to strict selection criteria and their products strictly controlled and certified.
TO LEARN MORE, VISIT OUR WEBSITE:
#screening #crushingandscreening #screener #quarry #concassage #mineralprocessing #crushing #crusher #construction #demolition #powerscreen #wirescreens #wiremesh #selfcleaningscreens #rubberscreens #polyurethanescreens #perforatedplatescreens #perforatedplate #pmelider #pmeexcelencia #vibratingscreen #horizontalscreen #miningequipment #mining #screens #aggregates #quarrying #produtiva